This show will be Unbelievably Bad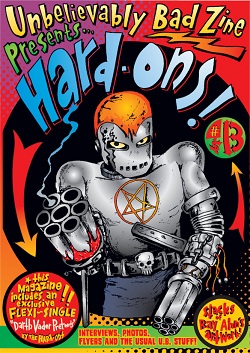 Impossible to ignore Aussie magazine "Unbelievably Bad" is celebrating its milestone 13th issue with a live gig and more at Sydney's Factory Theatre on July 19. Kicking off at 4pm in the arvo and going long into the night, the event will feature a healthy line-up of bands and a record fair.
Twenty bucks gets you live performances by Meat Cake, White Knuckle Fever, Chinese Burns Unit, Join The Amish, Hostile Objects, The VeeBees...plus a very special guest band.
"Unbelievably Bad" will feature a flexi-disc for the first time. It's a song by the Hard-Ons. The issue will feature an in-depth article on said Hard-Ons. Ray Ahn from the Hard-Ons designed the fgront cover. We're not betting people but we wouldn't mind hazarding a guess about that "mystery band."
As the zine's publishers are broke, they're taking pre-orders for this one here. We reckon it's a bargain at $A13. Hell, buy yourself two copies!
Tickets for the show are avallable here. The gig is a little way off so here are The VeeBees and their Internet hit sensation, "Drive Thru Bottle-O" to keep you primed.


Tags: hard-ons, live, unbelievably bad, magazine, veebees