The Mark Of Cain return with single and tour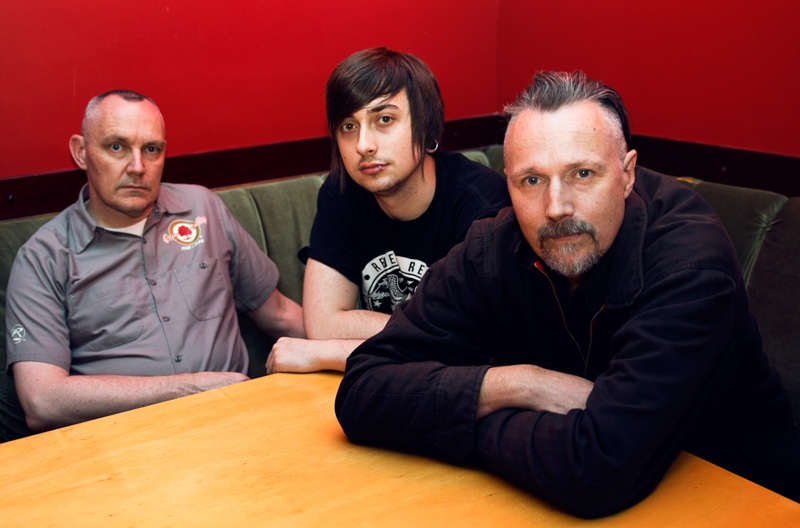 They're releasing a new single, "Grey-11", from their acclaimed 2012 album "Songs Of The Third & Fifth" so The Mark Of Cain have announced their first Australian tour since March last year.
It will take in the usual hot spots and also includes a return to Newcastle (for the first time since 2002) and a trip to Hobart for the first time in almost 20 years.
"Grey-11" features Henry Rollins - recently of Double J DJ fame - in a short spoken word piece.Says John Scott, frontman and song writer for TMOC of the collaboration:
"I wrote about someone coming back from a bad conflict anywhere, and that the thought of coming back to their family or girlfriend or boyfriend is what kept them going thru Hell, only to find they've even betrayed by the very people they relied on - and who else would get that but Rollins who tours war zones and visits combat casualties in Europe and the US. He wrote a middle verse that was spoken and I'd designed would be something I did or he could do if interested, and it turned out he was interested. Rollins gets us, he knows our shit. When called he responded."

The relationship between The Mark Of Cain and Henry Rollins started way back in 1990 when TMOC played support to Rollins Band in Adelaide and was fostered when Rollins mixed the band's breakout album Ill At Ease. Henry has continued to support TMOC so far as releasing their debut album Battlesick on his own 2.13.61 label and most recently playing the band on his weekly LA based radio show.

Grey-11 (edited version) will be released as a free download available to those already on The Mark Of Cain's mailing list and all new subscribers. Simply sign-up via http://www.tmoc.com.au/contact-us/ and the download will be sent on August 11th.

For these live appearances The Mark Of Cain will again comprise brothers John & Kim Scott with boy-wonder Eli Green again taking the honours behind the drum kit.

Melbourne two-piece King Of The North will appear as special guests at most shows with further support from Wollongong's Bruce, Brisbane's Turnpike, Perth's Scalphunter and Hobart's Captives.
Live outings from The Mark Of Cain are rare so its inevitable that when they do tour all shows sell-out. Be the first in line when tickets go onsale Friday August 15th.

Friday, 31st October 2014
Melbourne, 170 Russell St.
Tickets $38.00 + bf from 170russell.com, feelpresents.oztix.com.au, phone1300 724 867 or in person at the Corner Hotel Box Office and all Oztix outlets.
+ King Of The North

Saturday, 1st November 2014
Hobart, Brisbane Hotel
Tickets $38.00 + bf from moshtix.com.au, phone 1300 GET TIX or in person at the venue or Ruffcut Records (35a Elizabeth St Mall)
+ Captives

Friday, 7th November 2014
Sydney, Metro
Tickets $38.00 + bf from www.metrotheatre.com.au, feelpresents.oztix.com.au, phone 9550 3666 or in person at all Ticketek and Oztix outlets.
+ King Of The North & Bruce!

Saturday, 8th November 2014
Newcastle, Cambridge Hotel
Tickets $38.00 + bf from yourcambridge.com, feelpresents.oztix.com.au, phone 1300 762 545 or in person at the venue and Oztix outlets.
+ King Of The North

Saturday, 15th November 2014
Perth, Rosemount Hotel
Tickets $38.00 + bf from feelpresents.oztix.com.au, 1300 724 867 or in person at all Oztix outlets.
+ Scalphunter

Friday, 28th November 2014
Brisbane, Zoo
Tickets $38.00 + bf from feelpresents.oztix.com.au, 1300 724 867 or in person at all Oztix outlets.
+ King Of The North & Turnpike

Saturday, 29th November 2014
Coolangatta Hotel
Tickets $33.00 +bf from feelpresents.oztix.com.au, 1300 724 867 or in person at all Oztix outlets.
+ King Of The North
Tags: the mark of cain, tmoc, tour