What year is it? The Jam, Troggs members touring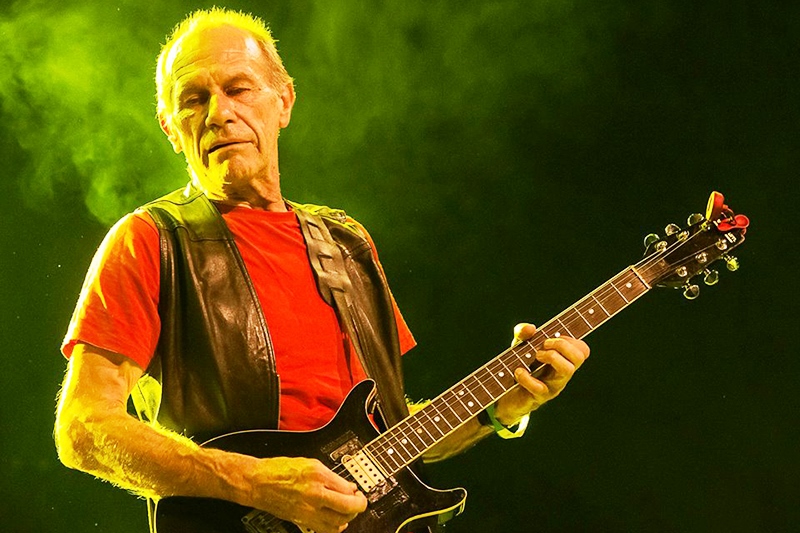 Hard on the heels of an announcement of a visit by The Sonics, '60s British rock legends The Troggs (what's left of them) finally return to Australia this November to celebrate the 50th anniversary of "Wild Thing" with an extensive tour.
Led by sole founding member Chris Britton (pictured) on guitar (Reg Presley and Ronnie Bond having left the planet), the inspirational source of songs like "Wild Thing", "With a Girl Like You", "I Can't Control Myself" and "Love is All Around" will play 13 shows across four states in November.
The line-up includes bassist Peter Lucas (who has been with the band for 40 years) and drummer Dave Maggs, who has clocked up a quarter of a century.
The Troggs first entered the Australian charts in 1966 with "Wild Thing" going all the way to number-one, knocking Frank Sinatra off the top spot. Their follow-up single "With A Girl Like You" was also a top 10 smash, going to number-eight.
The Australian connection runs deep with Hoodoo Gurus especially having fond memories of playing with inspirations The Troggs around Sydney in 1983. Tour dates:
The Troggs Australian Tour
Thursday 3rd November HERVEY BAY Beach House Hotel
Friday 4th November BRISBANE Hamilton Hotel
Saturday 5th November SUNSHINE COAST Caloundra RSL
Monday 14th November CRONULLA Brass Monkey
Tuesday 15th November SYDNEY The Basement
Wednesday 16th November NEWCASTLE Lizotte's
Thursday 17th November SPRINGWOOD Blue Mountains Theatre
Friday 18th November CENTRAL COAST Entrance Leagues Club
Saturday 19th November REVESBY Revesby Workers Club
Sunday 20th November ROZELLE The Bridge Hotel
Tuesday 22nd November ADELAIDE The Gov
Thursday 24th November SYDNEY Factory Theatre
Saturday 26th November MELBOURNE The Palms at Crown
Tickets available from: http://found.ee/TheTroggs
In others news, "the Australian public will be getting what the public wants" (credit given where it's due – that's a publicist's quote, folks) with the announcement that the remnants of classic British mod-revival act From The Jam (that'd be bassist Bruce Foxton) will be returning to for a national tour of Australia in September.
Following a run of sold-out shows during their previous stint down under, Foxton will be showcasing classic hits from "Down In The Tube Station At Midnight" to "The Modern World" as well songs from his solo career.
The Jam exploded onto the punk scene in 1977, dressed smartly tailored suits rather than ripped clothes, and brought together a number of mainstream 1960s rock and R&B influences.

The Paul Weller-less From The Jam inspired the re-emergence of Melbourne's Little Murders who should be first cab off the rank for supports, if you ask us.
From The Jam Australian Tour
Thursday 8th September | THE CAMBRIDGE HOTEL, NEWCASTLE NSW
Tickets available from www.bigtix.com.au and www.oztix.com.au
Friday 9th September | METRO, SYDNEY NSW
Tickets available from www.ticketek.com.au
Saturday 10th September | MAX WATTS, MELBOURNE VIC
Tickets available from www.maxwatts.com.au/melbourne and www.oztix.com.au
Sunday 11th September | STUDIO 56 MIAMI MARKETTA, GOLD COAST QLD
Tickets available from www.oztix.com.au
Wednesday 14th September | SOLBAR, SUNSHINE COAST QLD
Tickets available from www.oztix.com.au
Thursday 15th September | THE TRIFFID BRISBANE, QLD
Tickets available from www.oztix.com.au
Friday 16th September | THE GOV, ADELAIDE SA|
Tickets available from www.oztix.com.au
Saturday 17th September | CAPITOL, PERTH WA
Tickets available from www.oztix.com.au
Tags: tour, australian, the troggs, from the jam, bruce foxton, chris britton