You'll be Damned if you miss this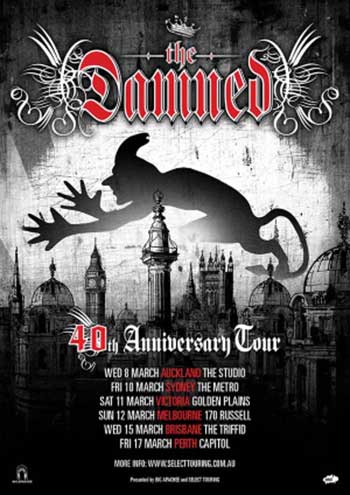 English psychedelic punk legends The Damned are returning to Australia and New Zealand in March 2017 for their 40th anniversary tour.
Since their formation in 1976 and playing their first gig as supports to the Sex Pistols, The Damned have carved their own path.
They released UK punk's first LP, followed by 10 studio albums, 15 live records and countless more 45s.
Known for songs like "Neat Neat Neat", "Love Song", Smash It Up" and "Eloise", they're ranked one of the most influential punk groups.
After a series of line-up changes and a temporary break-up, the band have continued to release masterful music, with their latest offering "So, Who''s Paranoid?" their first album in seven years.
The tour will be lead by original members Captain Sensible on guitar and the remarkable David Vanian on vocals, as well as long time members Monty Oxy Moron, Pinch and Stu West.
Dates and ticketing dertails after the break.
THE DAMNED
PRESENTED BY SELECT TOURING AND BIG APACHEE
Early bird Pre Sale: Wednesday 2nd November 9AM AEDT
Available from http://selecttouring.com.au/tours/the-damned/
Wednesday 8th March 2017
The Studio, Auckland NZ
Friday 10th March 2017
The Metro Theatre, Sydney NSW
Saturday 11th March 2017
Golden Plains Festival, VIC
Sunday 12th March 2017
170 Russell, Melbourne VIC
Wednesday 15th March 2017
The Triffid, Brisbane QLD
Friday 17th March 2017
Capitol, Perth WA
Tags: live, australia, damned, tour, new zealand