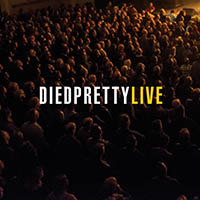 Died Pretty Live – Died Pretty (Citadel)

When heritage artists do re-recordings of their old classic albums it can raise serious alarm bells - big-time. But with Died Pretty performing their 1991 album "Doughboy Hollow" live in its entirety, as part of the "Don't Look Back" series of shows (which also included Sonic Youth performing "Daydream Nation" and the Scientists reprising "Blood Red River") the fans were in for special treat.
Issuing this somehow makes perfect sense as Died Pretty Live and Died Pretty In The Studio can be two very different beasts. Famously and historically, Died Pretty's live performances could (for better or worse) go from one extreme to another.

On 15 December 2008, however, when Died Pretty graced the stage at Melbourne's beautiful Forum Theatre, the stars seemed to be aligned. Thankfully the tapes were rolling, and Died Pretty gave one of those famously great performances.