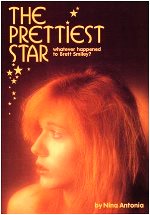 This book completely beggars belief. Top marks and way, way beyond. It's also utterly brilliant as well as being compelling reading. It'll have you ranging your emotions from laughter to sorrow and is so well researched (Nina doesn't bother much with academic references as her books come mostly from her own interviews and experience) and put together … words completely fail me.
If you've read any of Antonia's other books (on the New York Dolls, Johnny Thunders and The Only Ones) and enjoyed her style and intelligence … The Prettiest Star is so far ahead that it may as well be the best fiction you've ever read, except it's all true.
I can't believe that you'll recall Brett Smiley. He had one hit, "Va Va Va Voom", in the UK in 1974, at the height of that bizarre post-6ts glam and pop period where decent songs were generally in short supply in the charts. Oh dear, much like now? Really? I'm shocked.
Details

By

Robert Brokenmouth

Robert Brokenmouth