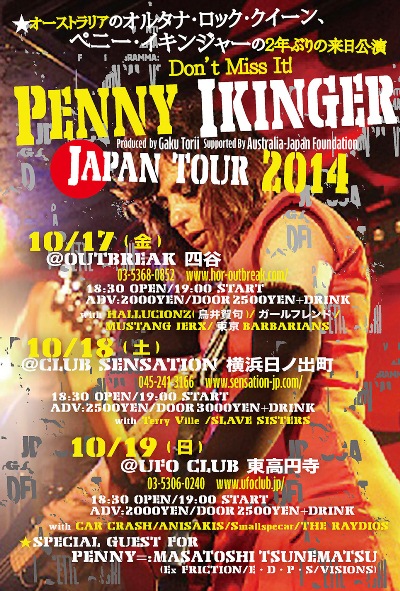 Australian sonic chanteuse Penny Ikinger is taking her unique sound to Japan again - this time to record as well as play live.
Penny has teamed up with Radio Birdman's Deniz Tek to write new material on the first stage of her next musical offering. Stage two then takes Penny back to Japan to team up with her Japanese musical crew to record the songs.
"I've collaborated before but this time I've taken it to another level to really challenge my approach to writing and to bring a fresh new sound to the music being created," Penny said.
"Deniz is a fabulously talented musician and opening up the music for a true collaboration was an experience that brought new energy and ideas to the whole process."
But that's not the end of the story. Penny will now take these songs to Japan where she will further collaborate with her Japanese musical partners from recent tours.
"Last time I went to Japan in 2012 I performed with some amazing psychedelic rock musicians – Masami Kawaguchi (guitar), Louis Inage (bass) and Keiichi Sakai (drums)," Penny said.
"This time around we'll play a few gigs, but the main focus will be recording this new material and having the guys bring their unique flavour to the songs.
"I'm really excited about the possibilities of where we might go with this – the crew in Japan are extremely talented musicians and although their sound aligns with my style, they are quite different in their approach."