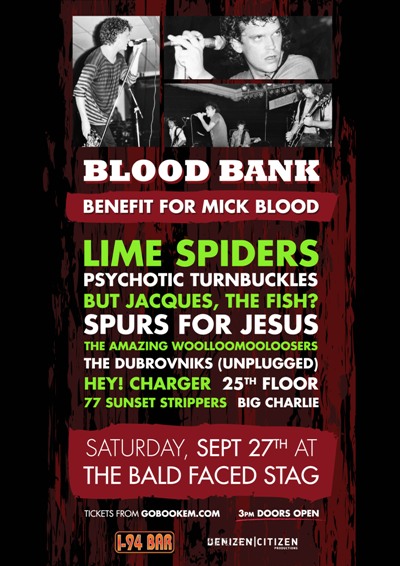 Mick Blood's life was turned upside down in June this year when an altercation in a pub in his new home of Newcastle left him in hospital with serious head injuries.
The vocalist for legendary Australian band the Lime Spiders suffered brain damage and faces a long road of rehabilitation and recovery.
The Lime Spiders were one of the most influential bands to spring from the fevered Sydney underground scene of the 1980s. After the success of their "Slave Girl" single on Citadel Records, they went on to sign a global record deal and toured the world.
Over the course of three studio albums, four EPs and a live record, the Spiders cut a swathe through the Aussie music scene, appearing on the soundtrack to the "Young Einstein" movie and earning praise from the likes of Jello Biafra, Iggy Pop and Joey Ramone.
The cream of the Sydney scene is now rallying behind Mick in his hour of need with an all-star benefit show scheduled for the Bald Faced Stag Hotel at Leichhardt in Sydney from 3pm on Saturday, September 27.