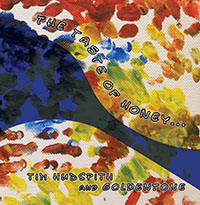 The Taste of Honey'...- Tim Hudspith and Goldentone (Dead Letter Records)
I saw Tim Hudspith play a few weeks ago. Still has that remarkably lush tone to his music, still those love songs which alternately haunt or spook the listener into a study of memory, or provoke a wry, pained smile of recognition.
We don't always get what we want, nor less what we deserve, but Hudspith twitches our romantic soul.
If you don't have one of those, I will ask you to ponder what on earth you're doing reading about rock 'n' roll.
Hudspith is a romantic of the old school. All those expectations raised and lowered, flying high then spiralling down to dust.