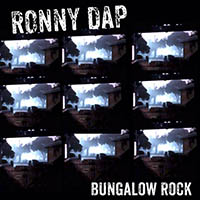 Bungalow Rock - Ronny Dap (self released)
Listen up I-94 Barflies - there's a new era of music taking hold in the northern suburbs of Melbourne. It combines dirty rock 'n' roll mixed with old school English punk rock, sung and played by an Australian with no regards to what anyone thinks...
Expiain? Well, it's called Bungalow Rock. A brilliant name, if I do say so myself, and this music was recorded - in isolation - in a suburban bungalow-cum-recording studio and in a rented home's backyard.
Our man Ronny Dap from Melbourne has released this, his second album in 12 months, as the follow-up to the glorious "Root Shoot or Electrocute". If the name is ringing bells, Ronny Dap was the brains behind the punk band The Dope Smoking Morons as well as many others over the past 30 years. He plays everything on "Bungalow Rock".