Details

By

By Murkkka's Favorite Dishwasher, General Labor

By Murkkka's Favorite Dishwasher, General Labor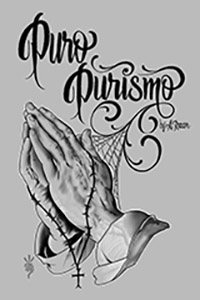 Puro Pursimo by A. Razor (Punk Hostage Press)
"The words are where we worship...." (-A.Razor)
Post-Grunge, there were still at least a few little magazines, independent record labels, real record stores and big city nightclubs where cool little bands could do their thing. Now, that stuff's even mostly gone. Immediately, Post-Grunge, though, there was like, 10,000 shite bands, too. Every town had a fake Blues Explosion, a fake Sonic Youth, a fake Nirvana, a fake Chili Peppers, etc., etc. If I wasn't moved by the originals, I surely had no time for their local small pond, bad impressionist, franchise clone, cut rate imitators.
Macho bellowing metal merchants, goofy whiteboy funk and swing bands, Clash-Ramones-Thunders rip-off bands, tribute acts, but few of 'em really had their own style, statement, message, or tunes. Some of the most fondly remembered bands of that era had no memorable music, at all, you can't even sing me one of their songs if I asked you to on the curb in an unguarded moment - it was just the threads everybody seemed to like. Money and clothes, that's all they had goin'. Suits and deep cocaine pockets.
Details

By

General Labor

General Labor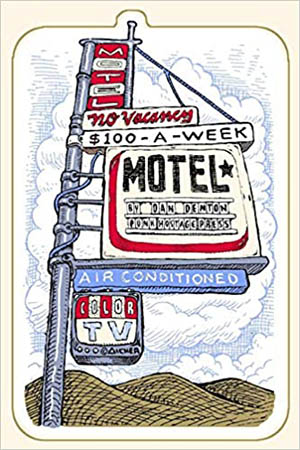 "$100-a-Week Hotel" by Dan Denton (Punk Hostage Press)
Holy Toledo! I read this book in just two sittings, even though I have awful eyesight and live in a dark trailer with crazy loud kid media blasting at me around the clock. It's that good, you won't want to put it down.
It's one of those rare books for people like me with short attention spans, it feels more like a movie or record, because his masterful and observant descriptions of everyday people struggling to survive under the boot of oligarchs and jackbooted Gestapo in the shadows of the dying empire's corporatized police state, where most wounded, helpless people are born into extreme poverty, abused, neglected, abandoned, and instructed to piss-test and compete for bottom-feeder, no future jobs that never pay a living wage.
Most of us never really stand a chance. It's refreshingly blunt and real, and does not suck-up to booj college standards of asskiss phoniness. It's the real story of plain-spoken, midwestern, working class heroes and heroines struggling to medicate their pain and find some sort of redeeming intimacies, grace and dignity, any consolation or impression of consolation, before passing out and waking up to a shrill clock radio.
People cannot stop themselves from dreaming, from seeking redemption in the arms of a gypsy-queen of the highway, and from sometimes, losing their cool and freaking the fuck out. All these characters are searching for some kind of higher power, divine intervention, warmth of home, even though they are mostly helpless, cursed, traumatized and all tragically ill prepared to meet the demands of rent and still have coins left over for some malt liquor and gas station food.
Details

By

General Labor

General Labor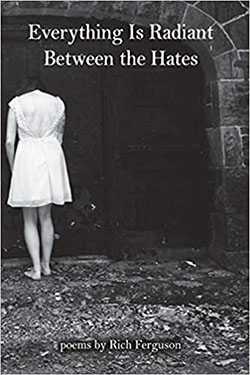 Everything is Radiant Between The Hates
By Rich Ferguson
(Moon Tide Press)
Rich Ferguson is the best poet in the world, if you ask me. All his words have medicinal properties; they are magic spells and healing incantations. If you love John Cooper Clarke or Lydia Lunch, Exene, Nikki Giovanni, John Trudell or Tupac, you'll probably love Rich Ferguson, too.
If you are lonesome, isolated, alienated, suffering, worried, exiled, dry-drunk, evicted, locked-down, locked-out, tripled masked and permanently veiled in black lace mourning, abandoned, back-stabbed, betrayed, robbed, in grief, forlorn or melancholy, remember there is power in the word.
"Everything Is Radiant Between The Hates" is my newest sidekick, imaginary friend, silver bullet, rosary, garlic and crucifix, force field and holy water, pepper spray and hip-flask, trusty shank and pimp-stick, Marlboro Reds, harmonica, Roy Rogers holster, double secret fan club only secret decoder ring, 45 spindle, miniature spy camera, flashlight, utility-knife and I-phone. Flash Gordon spacegun. Secret scrolls, wobbly jukebox at the last greasy spoon in town. It's probably the most rocknroll artifact I've unearthed since the Humpers from Long Beach released that CD, "Positively Sick On Fourth Street", like 25 years ago.
If you're like me, you're used to carryin' nothin, mighta spent most of your life empty pocketed, no watch, no wallet, no keys, no credit card, no proper identification, or name-tag, or money-clip, but once you get this book in your hands, you'll probably keep carrying it around with you. It's become essential to my sense of wellbeing, like a guitar slide, or bottle opener, Brill Cream and unbreakable comb. You won't leave home without it.
It's a Greyhound ticket to another time. Drinks for free. Mirrored sunglasses. Feather earring. The gospel truth confirming all the good ghosts you got floatin' around inside your traumatized skull. Like a rhinestone horseshoe, a Best Western ashtray, a universal remote, or black cat bone. It's like Pete Seeger's Wobblies songbooks. You better get a copy, now. Also look for "8th & Agony" (Punk Hostage Press).