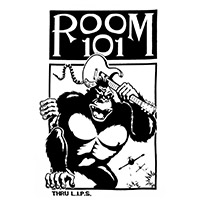 Concrete Box b/w Crazy For You – Room 101 (Lost in Pyrmont Records)
If somebody invents a time machine you could do a lot worse than dial it up to 1980 and land yourself in an inner-city pub in Sydney like The Heritage Hotel in Kings Cross, The Sussex Hotel in Chinatown or The Vulcan in Ultimo.
Inhale the fumes of a delicious cocktail of nicotine and Tooheys, piss in a toilet that needs urgent repairs, and pay $1.20 for a alcoholic beverage whilst being squashed beyond human endurance in a room that wasn't designed for live music but was hastily converted into one when the late 1970s and early 1980s pub rock boom occurred.
Room 101 was one of the bands that thrived in this long-gone environment.