I've Got Cock If You Want It - Raygun Mortlock b/w Don't Follow Me - The Dirty F Holes (self released)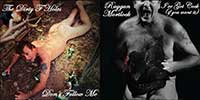 Fancy some cock rock in a double-serving? This double A-sided split-single puts Gold Coast/Far Northern New South Wales misfits, Raygun Mortlock, intp bed with trashy Brisbane brat-beaters, The Dirty F Holes. Who wears the strap-on in this aural version of "50 Shades Of Grey" isn't clear but the consummation of this relationship isn't pretty.
"I've Got Cock If You Want It" sits astride a repeating guitar figure and lets it all hang out. There is no fancy foreplay introduction or acoustic guitar filigree at the bridge in this ball of sludge. It has a direct, shout-along chorus (you can guess the words) that's interrupted only by a tightly-coiled guitar solo that takes the song out.
It's the Radiators' 1980s bogan anthem, "Gimme Head" - performed by noise terrorists and without the subtlety - but 10 times better and really rank beer breath. Slip it onto your turntable spindle. Drag it up and down. Then repeat…
The Dirty F Holes raise the tempo, if not the tone, with their own balls-out declaration abou8t not following leaders. "Don't Follow Me" is a garage-y rocker that has a melodic rise-and-fall vocal line in front of a firing squad of guitars. Its lo-fi production magnificence is matched by its high energy level, with the most economic of guitar solos bringing it home. The song's as catchy as herpes so where's the album?
There's only a limited number of this sucker in Brisbane shops like Rockinghorse or you can hit up either band at their shows. If that's a geographical toughie, use the wonder of the Internerds to drop James of the Raygunners a line at This email address is being protected from spambots. You need JavaScript enabled to view it. for the vinyl, or grab it digitally from this  Bandcamp link. - The Barman




3/4
When singles like this come along, you have to be grateful you live in Australia.
'It's not what you'd call pleasure/ But you're gonna fold under my pressure'
By fuck this is good. Fuck, I'm fuckin' even fuckin' swearing pointlessly just fuckin' like fuckin' real fuckin' men fuckin' fuckin' do.
This slab of raw mortality hits the ground running. You'll want to snap this up while you still can; if you don't it'll be a collector's item inside a year and even if you wanted to spend silly money on it, you won't be able to find it.
I've been playing this in the car (don't ask) over and over, just like we used to do with those "classic era" singles we taped onto cassette. What is it about all these savage country bands? Doyle's lyrics are so straightforward, his vocals so laced with pain, we're drawn into this hateful macho bullshit world. I guess Doyle loathes it as well, so he plays the part he feels he is supposed to, with what seems to be little embellishment. There's a big chunk of self-loathing here, too. "Got Cock" is sheer brutal self-realising brilliance. Star quality stuff, I tell you.
The Fuckholes are faster, and equally nasty; 'the mirror shows a junkie/ old cold and scared'. So savage, these songs could either be satire or straight tragedy, or deleted scenes from a '80s splatter movie.
The Dirty Fuckholes and Raygun Mortlock will either cause a riot in your local pub or clear the place. Either way, nobody gets any that night.
A friend (steeped in ancient rock 'n' roll) played me one of The Mark of Cain's songs after I played him one of the sides; I played him a Big Black song. If he'd played me Mach Pelican after the Fuckholes it would've been equally wrong. Why? Cause there's influences and influences, y'dig? If there's anything this 7" reminds me of, it's that late 7ts early 8ts period when every amazing US band with snap and snarl and pig-guts put out a crunching, clever 7"; some folk I knew bought everything they could, convinced that if they didn't they'd miss out on genius. And … they were right.
Their fans in NSW and Qld will fight you if they know you have this and they don't, so don't tell them. Buy it from This email address is being protected from spambots. You need JavaScript enabled to view it. . You don't got much time.
Record companies should be beating their door down, kidnapping the surly bastards and stuffing the Mortlock and Fuckholes on big-arse stages around the world, so they can stomp on millions more ugly faces instead of just ours. - Robert Brokenmouth






(and two Roofies).
Tags: raygun, single, dirty f holes, i've got cock if you want it, don't follow me