Preytell, exhumed release is a corker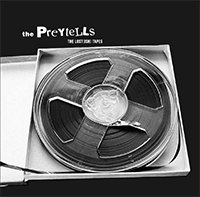 The Lost(Ish) Tapes – The Preytells (Fantastic Mess Records)
It's a four-song EP from an obscure (at least on the other side of the country) Adelaide band that deserved prominence - and might have managed it if they'd come from Sydney. The Preytells formed in 1986, shared stages with just about every worthwhile underground local band of the era.
These songs were among sixn recorded in '92 for release by Greasy Pop. Alas, the band fell apart before that could happen, and singer Mick Reed left this world a month later. The tapes have been exhumed by boutique label Fantastic Mess Records and are superb '60s punk-inspired rock and roll.
"Step Up" is a snot-laden snarler that underlines The Preytells were indeed the Adelaide band that got away. Fluid guitar lines and an authoritative vocal make it special. It's a budget recording but that shouldn't worry you.
"We're Pretty Quick" is a cover of a song by The Chob, a garage band from Albuquerque, New Mexico who were on a posthumous "From The Archives" compilation, and it radiates raw energy.
"Come My Way" is the lead-off B side track and sounds like a late '70s Darlinghurst-via-Detroit stormer – hence the judgement that these guys would have shone if they'd sprung up in Sydney or possibly Melbourne. The second cover, "Are You Gonna Be There (At The Love In)", doesn't need an introduction so we won't bother. Again, it's more than respectable and the outro breakdown takes it somewhere different.
The package ships in January from Fantastic Mess with the usual inserts and extras, so let your post-Xmas fingers do the walking here.






1/2
Tags: adelaide, fantastic mess records, preytells, the lost(ish) tapes, greasy pop