Television Generation b/w Hit Parade/What Could She Do - Sheer Fun (Fantastic Mess Records)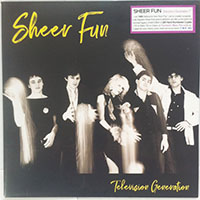 Yes, it sounds more dated than Beta format videotape and borders on twee but therein will lie the charm for lovers of what was once called New Wave. It's a limited edition, seven-inch single of three previously unreleased songs by Sheer Fun, a short-lived 1980 Melbourne band.
Formed by Adelaide expats Jude Ladyman and guitarist Grant Lang. Ladyman, vocalist and associate/occasional songwriter of The Aliens. The Aliens were an Adelaide band that briefly threatened to cross-over into the major label-owned mainstream. Lang and Ladyman had headed to Melbourne in search of a place in its arty punk scene. As Jude Stapleton, Ladyman went on to co-own Kings Lane Studios in Sydney, a home for many of that city's bands in the late'80s.
This is a fun single. The A side is Mi-Sex style pop without the quirks, a bouncy dump on the then main weapon of mass media mayhem, television. TV was a popular target in a post-modern world (just ask The Victims) and the song's a keeper. Ladyman has a touch of Lena Lovich to her vocal.
Whether by accident or design, the B side songs are very close to the sound of The Aliens - which is to say not very adventurous. "Hit Parade" is stilted and has a wafer thin guitar sound but, to be fair, was probably a demo. "What Could She Do" is a song about two ordinary people and is, er, ordinary.