UK's Black Bombers deliver another payload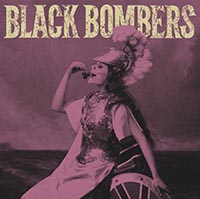 Last Bite b/w You Take My Money -Black Bombers (Easy Action Records)
So, Black Bombers are on tour through UK, which to many of us may seem bizarre as the place is far more riddled with the stupidvirus than we are in Australia. However, almost everyone's been vaccinated and boosted, and the latest major variant, BA.2 doesn't wallow in the lungs like a family of grumpy hippos like the Delta and Co did.
Now: there's only 300 copies of this single and I can't imagine there'd be that many left. Get on it while you can.
Why? well, first, the BBs are freaking awesome (as the young folk used to say) live and if you only have what they've released so far - a self-titled LP, a seven-inch "'Rush" b/w "Raw Ramp" (a Bolan cover), and the mini-LP "Volume 4", then you know what you're in for, and any and every release from the BBs is greasy dark manna from Purgatory.
Let's pretend you've never heard of them. Black Bombers are a bone-crunching, toad-squishing murky rock 'n' roll outfit who are soaked in their influences ... (as you will have noticed above) but who take you for a fairground ride a la "Something Wicked This Way Comes" and "Scanners", via your favourite Motorhead songs. Also they come from Birmingham, which is where I was born. I was bound to like them, eh?
Nope. Nothing of the kind. I can't recall the last twinge of interest I had in visiting the place.
Right, well. Singles. Performers release the things in various types. Record companies don't really understand singles, or bands. They either think "whip another song off the LP for the B-side, no-one will notice", or"'look, take the vocal off so it's just an instrumental, right, no-one listens to B-sides anyway". A friend of mine, a long-time ligger and collector, refers to record companies as "paint salesmen".
There were many exceptions in the 1970s underground, and once punk got started you noticed which bands gave you value for money. Most of the early UK punk and new wave singles are riddled with great songs. The Damned's first single in 1976, "New Rose" was backed byh a thunderous take on the Beatles' "Help!", which meant that original copies are rarely found with both sides unscratched to buggery (and, possibly, back). Add the picture sleeve and then the coloured vinyl and you have a desirable object in a very desirable package.
Once this concept was seized with delight by the punters, there was a demand, and lo, a bona fide market was born. Initially skeptical, the paint salesmen were delighted with the unit figures.
Bands of similar ilk took notice of the strategy and released singles with essential non-LP B-sides. Some characters would even release singles which never turned up on their LPs - a practice not always in their best interest: Ian Dury's LP sales sagged accordingly as the likes of "Hit me with your Rhythm Stick" and "There Ain't Half Been Some Clever Bastards" did not appear on Dury's LPs at the time, while "Clever Bastards" became a jukebox favourite.
Mint copies of this single must be as rare as rocking-horse semen. Singles like this, or the Damned's first (above) also served as a calling card - come and see us on tour.
Some bands, knowing only the A-side would be played on radio (God, radio, remember that?), would release a single which hinted at the breadth of their talents. Take Siouxsie and the Banshees' first single, "Hong Kong Garden" b/w "Voices". Put simply, the B-side was a statement of artistic intent.
So, the single as a piece of art. If I had the money to indulge my greed I'd have a lot more. And I'd put aside one day a month to settle down and just play singles for hours at a stretch, perhaps making compilation cassettes as I go.
Now, we all know that the rot set in quite quickly in 1977. Bands released singles on paint salesman terms, but with picture sleeves and coloured vinyl to get the die-hard fans to part with their dosh. Cynical, but hey, paint salesmen, whaddaya gonna do?
Then came the CD, then the download. I don't remember my first download. Or my first CD. They have their utility, I guess. But as a desirable, fondlable, covetable object of only a few hundred or a few thousand copies ... nothing beats a seven-inch single, in my opinion.
In recent years there's been a gradual shift back to vinyl. As a piece of art, a desirable, covetable artefact, a physical item wreathed in music history, personal ceremony and attention to detail. Fancy, in this modern age, not just flicking on shuffle but being required to physically care for this fragile disc as if it were an elderly relative to pay homage to, or the statue of a heathen god.
Er, which brings me back to Black Bombers' new single, "Last Bite" b/w "You Take My Money".
"Last Bite'" has a lay-down-your-cards wall-of-racket stone-fucky groove as drummer ex-Prefect Dave Twist sets it all up with a minimum of fuss while bassist Darren Birch ripples around it. Combine this with two sparking, glittering guitars. Then there's Alan Byron's ugly, ugly vocal that roars and scrapes over four lanes of council grit.
<
The lyrics - they're on-point. Britain is, as you may know, has been having a rather shithouse time of things over the last few years - confusion over what it actually is and represents seems very much to the fore, yet few commentators seem to be aware of it. 's vocal, "Our pride as a nation in the hands of a clown ...", hits a sore spot alright. "Last Bite" showcases a band who sound like they tread stadiums and boot old farts into the muck beneath the baying crowd.
Steve Crittall is the new boy on guitar, and frankly, he's something damned special. If the BBs were lucky to get him, he was lucky to slot right in. He may as well have always been there. So very, very strong, so light, so precise, so nasty. In a nutshell, we have a big, big band here. The mix of personalities, the blend of smart players, the sheer dark determination... yeah, I'd love to see this band headline festivals and arenas.
"You Take My Money" is the best damned Damned cover version I've ever heard. First, it rips along with the outraged fury the original deserves, and second, Crittall's guitar is like a long unpleasant incision, over and over. Here the BBs are having fun as only they know how. If you didn't know better you'd swear it was an original.
The clip pays homage to the rear cover of the Damned's LP, "Music For Pleasure" on which the song appeared, and while Brian James' original guitar remains huge and powerful... Crittall's ... oh, just go and get it.
Also, Twist (what a fucking great name, I hope the poor bugger was born with it) has compiled "Un-Scene", a collection of Birmingham post-punk (which, yes, includes The Prefects)
Something strange happened to me as I listened to these songs. A twinge, a veritable tug on the old heartstrings. If I ever get the opportunity to go back to the UK, I need to visit Birmingham.






Buy it
Tags: black bombers, birmingham, the damned, easy action records, last bite, you take my money