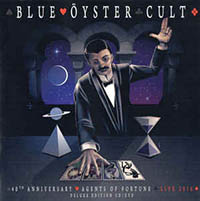 40th Anniversary Agents of Fortune Live 2016 - Blue Oyster Cult (Frontiers Records)
And you're asking, Why? And possibly with good reason. For starters, it's 2020 and that makes the anniversary four years late, right? And surely these guys aren't still going?
They are - albeit with just two original members. Australia was lucky enough to host them a few years ago. The last studio album was "Curse of the Hidden Mirror" 19 years ago (and it was pretty good.) There's even a new studio record pending. This live celebration is a valid addition to the BOC catalogue, even if most of the appeal will be for rusted-on fans.