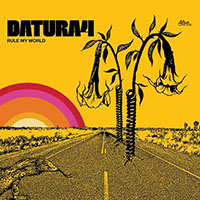 Rule My World b/w Phoenix - Datura4 (Alive Natural Sound)
Perth's Datura4 grows in stature with each release and this single, issued in tandem with the latest album, kicks major sonic arse. "Rule My World" is a swaggering chunk of '70s raunch and only otherwise available on the CD version of "West Coast Highway Cosmic". Warren Hall's stuttering drum pattern summons the tune to life and Howard Smallman's harp is the icing on the boogie cake. It's canny Dom Mariani pop with a '70s vibe.
The B side is exclusive to the 45 and is a suave instrumental, with some Bob Patient organ that's cooler than a 1972 bottle of 4711 Ice Cologne on a February Perth aftwrnoon. Some wiry Mariani guitar lines take it out. There are just 300 numbered copies worldwide and you can find yours here if you're in Australia, or here if you're not.