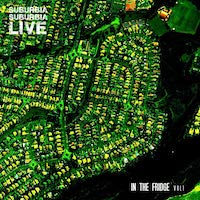 In The Fridge Vol 1 - Suburbia Suburbia (self released)
Biting satire and blues rock make a happy couple. Suburbia Suburbia know the value of three chords and a bucketload of wit and employ both on "In The Fridge Vol 1".
You could call Suburbia Suburbia yobbos. They'd shout you a beer for it before they'd thump you. It's stating the obvious to say Australia's bogan rock heritage had its origins in the "suck more piss" bluster of Billy Thorpe and the Aztecs and lives on through Cosmic Psychos and Amyl and the Sniffers.
Suburbia Suburbia are gnarly old hard-heads who have been around the Australian live music block a few times. With a grounding in sticky carpeted pubs across Sydney, Brisbane, Toowoomba and the Gold Coast, they don't so much take the piss out of suburban culture as revel in it.