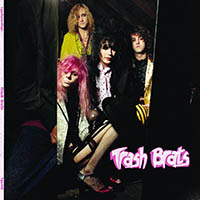 Trash Brats – Trash Bats (I-94 Recordings)
Summa you cool kids might remember I-94 Records out of Detroit (as opposed to I-94 Bar Recordsout of Sydney, Australia) as the dead savvy tastemakers behind those vital and volatile "Drunk On Rock" compilations. The label introduced loads of underground punk-roll bands, as well as essential full-length releases by Cranford Nix Jr. and the Malakas, the Trash Brats and B-Movie Rats. They are back with the highly influential debut of the Trash Brats first album, previously only available on cassette. In the 80's.
Trash Brats were the most important punk band in the Midwest - part NY Dolls, part Candy, part Teenage Head,poppy, melodic, fun, with notoriously crazy shows known for big energy and wild abandon. Appealing to fans of Sloppy Seconds, Hanoi Rocks, the Dickies, and the Ramones, a Trash Brats concert was where small-town kids travelled to shake 'n' shimmy, to get fucked up and jump up and down, try out all their kookiest Alien Sex Fiend and Bat Cave makeup, and to meet all your favorite, lifelong, goth girl pen pals.