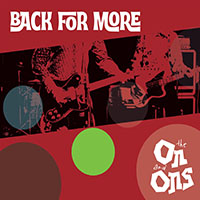 Back For More – The On and Ons (Citadel)
Regular Barflies need no introduction to The On and Ons. They are Sydney's finest power-pop exponents. Their catalogue of two prior albums and a mini-album since 2015 is as much a testament to the songwriting abilities of ex-Kings of the Sun and Screaming Tribesmen guitarist Glenn Morris as the grooves and harmonies provided by bandmates Brian Morris (drums) and Clyde Bramley.
You can judge the quality of a pop album by its earwig-ability and album opener "Vanishing Act" sticks in the brain like a dose of dopamine. Wrapped in a simple, uncluttered '60s sound with carefully arranged three-part harmonies, it's punctuated by finger-clicks and Morris's parrying guitar.