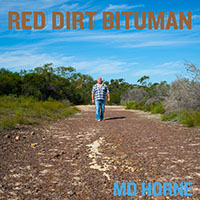 Red Dirt Bituman - MD Horne (self released)
This is a clever stripped-down blues-rock album, a stark and personal journey full of evocative twists and turns and as grittilyAustralian as its wilfully mis-spelt title suggests.
"MD Horne" is Mark Horne, Sydney bassist for many bands but most notably the brutal 300 st claire and Johnny Casino and the Secrets. Mark recorded it on a sojourn to Spain, where his mate Johnny is domiciled. MD handles acoustic guitars and vocals, and Señor Casino plays everything else.
"Red Dirt Bituman" is Horne's debut solo album and its title plays on the dichotomy of a man torn between his connections to the city and the bush. Truth be told, most Australians cling to the coast like limpets on a tin boat and wouldn't be seen dead on a dirt road. M.D. Horne, has travelled plenty of dirt tracks and blacktops and his music speaks of both.