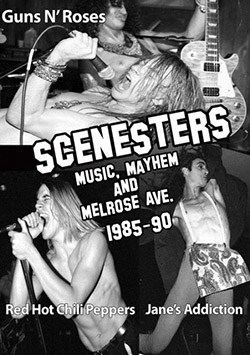 By the time me and a flamehaired stripper with a sports car arrived in Hollywood, to look for the pot of gold at the end of the Rainbow Bar And Grill, it was mostly all over.
We were snorting up the last hours of sequins and vulgarity, mascara and laughter before the bad trip buzzkill of Cobain. We were squinting in the last blinding, big sprays of Aqua Net and final drunken caterwauls at Thursday night cattle calls, where a rogues' gallery of various whiskey sodden, speed freaky, Stars From Mars and Seaweed Eaters and Raw Flowers and Glamour Punks and Dawg Mafia and Queeny Blast Pop diehard, teased haired, Motley-Babies played their hopeless gutter-punk defiantly, even while Seattle was exploding into the mainstream.
It was the sad, last gasps of a cool and androgynous underground scene, as grunge and gangsta-rap and capitalist lifestyle unreality-tv programming were coming into vogue and all the faded spandex stars of the strip had mostly got rich and sold-out, died, or gone straight.