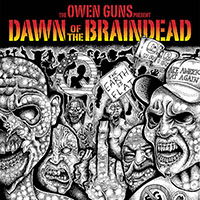 Dawn of the Braindead – The Owen Guns (Outtaspace Records)
Excuse the sneaky little Zappa-ism but does humour belong in punk music? You betcha. Australian punks The Owen Gunsare prima facie evidence.
They may know them from their previous EP or from their song about Donnie Trump beinbg repeatedly pulled from YouTube. If not, here's a nice way to make their acquintance.
Hailing from Sydney and its sometimes awkward cousin city Wollongong and with roots in a bevy of old school punk bands, the four-piece Owen Guns deliver a dozen powerful and puerile tunes on their debut album on Outtspace.
If burning down churches, stomping on racist skinheads and putting the Doc Marten into Bono ain't your things, better break out your Leonard Cohenbox set, adjust your chakras and do whatever it is that's done with patchouli.