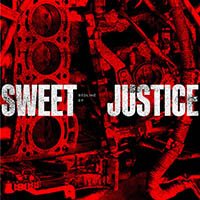 Redline EP – Sweet Justice (Eternal Music Group)
Hello Barflies! Well folks, The Farmhouse has been rocking these past few weeks. Los Angeles' Sweet Justicehave released the follow-up to their debut album - and it's only taken 18 years.
Why so long? Well, these boys are always busy, what with their other band the fabulous Streetwalkin' Cheetahs (among other projects) keeping these fine musicians very busy.
Sweet Justice is a three-piece band featuring Frank Meyer (guitar and vocals), Bruce Duff(bad ass bass) and Mike Sessa on the skins (replacing original drummer Chris Markwood.) What as pedigree these blokes have. having worked with James Williamson (Iggy & the Stooges), Eddie Spaghetti, Jeff Dahl, ADZand Wayne Kramer (MC5). So you know this ain't no garbage or garage band I'm talking about.