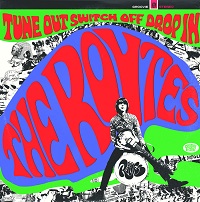 Tune Out Switch Off Drop In - The Routes (Groovie Records)
Echo, vibrato, tremelo, retro-a-go-go. The Routes aren't afraid to wear their influences on their paisley sleeves. From Nuggets-style garage and psych, to surf and swamp, this Japan-based act tread a well-trodden route (sorry!) but they do it with substance and style.
Formed by expat Scotsman Chris Jack and based in Hita City in the mountains of Oita prefecture, The Routes have been making music since 2006 with a variety of line-ups. Jack remains the one constant, and on this album he handles vocals, guitar, bass and organ, leaving the drums to Bryan Styles. "Tune Out Switch Off Drop In" is their seventh album, released on Groovie Records in late December 2019.
The CD version boasts four bonus tracks from their 2018 EP "Driving Round In Circles", featuring Shinichi Nakayama on drums. I hope I'm not being insulting to either drummer when I say it's hard to spot much difference – they're both solid and match their tempos to Jack's tunes. The downside of including the EP is that the CD becomes a 14-track effort and that stretches things a little further than necessary.