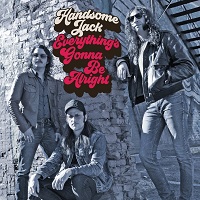 A word about words: Albums should be all about music, but descriptors count because they convey an identifiable concept of what the music sounds like. Lockport, New York, Handsome Jack's record label, Alive Naturalsounds, calls them "boogie soul". That cap fits…so you know the rest about wearing it.
Fourteen years into the game and "Everything's Gonna Be Alright" is the third long-player for Handsome Jack since they kicked off as a trio of precocious teens in a ubiquitous garage. Two of the three members remain - drummer Bennie Hayes is a newcomer - and while stability like that is a rarity, it's also a virtue.
Guitarist Jamison Passuite summons up John Fogerty with his rich and resonant vocal on opening track "Keep On"; other places he echoes Southern rock and Stax soul. Throw in some Delta blues and the rest of this sure-footed, grooving album doesn't stray far from the inspirational well. Many, if not most, of their influences seem to have been around before these guys were born. Is that a bad thing?