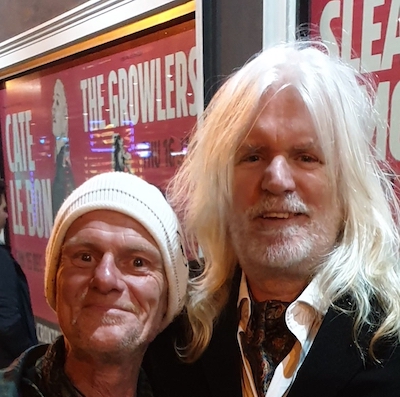 Releases and Gigs
1 "Open Season" – Mick Medew and the Mesmerisers
This abum is a must for any Screaming Tribesmen or Mesmerisers fan. Full of catchy tunes. My number-one easily.
2 Hits live
Hits played Collingwood/Melbourne. Never a dull moment when drinking beer with Dick (Rich) Richards
3 "Ann Arbor Revival Meeting" - Scott Morgan's Powertrane
After having a shitty bootleg for years it's great that this has finally been re-released on LP and CD.
4 Radio Birdman, The Stems, Los Chicos - The Croxton Band Room, Melbourne
What a line up of talent! The Stems' sound was amazing, Best bit of the night thoughg was meeting legendary X singer Steve Lucas (pictured at right - hatless) and his lovely wife Joey.
5 The Johnnys – Memo, St Kilda.
The Johnnys are still the Cow Punk Kings of The World,