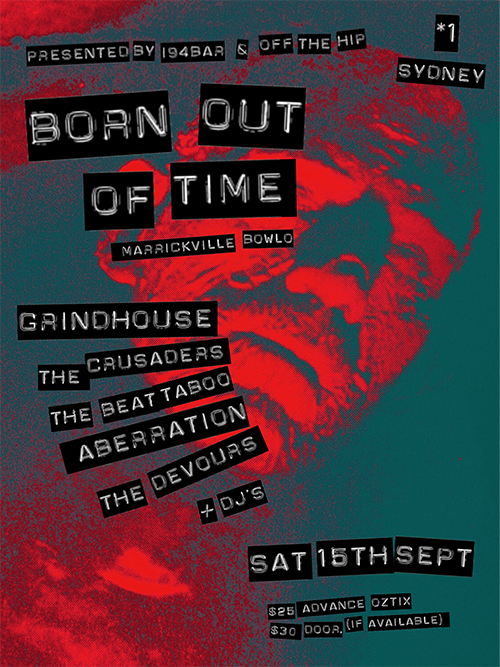 Call it a gathering of the garage rock tribe or a gig for underground music's disaffected, but the "Born Out of Time #1" bill of high energy bands is going to rock Sydney's socks off.
A mini-festival of awesome proportions at Marrickville Bowling Club in Sydney on Saturday, September 15, it's the first of a series of national shows to showcase the best REAL Rock n Roll in the land.
Presented by Off The Hip Records and I-94 Bar, "Born Out of Time #1" features a line-up of motor-headed Melbourne punks Grindhouse; kings of fat 'n' drunken stupidity The Crusaders; new voodoo crew The Beat Taboo; revived and resurgent Sydney punks Aberration; and young Melbourne band The Devours.
"The concept of Born Out Of Time is to take bands from the label, and others, to places where they might not otherwise play," says Off The Hip Records honcho Mick Baty.
"It's a value for money, five-band bill that echoes the sort of nights that made the Sydney Trade Union Club famous in the 1980s."
The Crusaders will be making one of their all-too-rare appearances and their first since supporting The Sonics in Sydney two years back.
The Beat Taboo
is a group of Melbourne veterans with a swamp-voodoo
album
"Dirry Stash" making noise in Australia and overseas.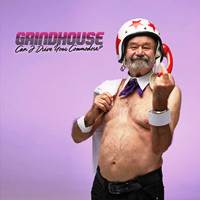 There's a school of thought that says continual exposure to dumb rock and roll will lower your I.Q. by a significant degree. Well, fuck that. You don't need to be a Rhodes Scholar to enjoy hard and fast, Real Rock Action. But don't be getting off on your snobbery trip, either.
Rock and roll can be thoughtful, intelligent and insightful. That doesn't stop it also being thicker than a San Franciscan fog. Chuck Berry had his subversive moments, but "Johnny B Goode" ain't one of them. Little Richard: "A whop bop a lu lop a-whop bam boo"? What the fuck is that about? Don't even mention "Ob-la-di ob-la-da". It's a shit song anyway.
The point is that you can like smart rock and simultaneously roll around in the swill trough. It shouldn't be one or the other. They're not mutually exclusive. The Franklin School were flat out wrong. (Look 'em up if you don't know.) High art is one thing but getting high (or drunk) mindlessly at warp speed is another. Even if you're not into over-indulging, rock and roll is as much about fun and having a laugh as anything else. And it doesn't get much funnier than middle-aged Melbourne punks Grindhouse.

Soaked in beer, sweat and sex, Melbourne's Grindhouse delivers a loud 'n' fast album dripping with guitar riffs. This is their second offering.
It sure sounds like Ricky "Pony Club" Audsley (lead guitar), Mick "Two Fingers' Simpson (vocals-guitar), Adrian'"The Father" Cummings (bass) and Liam "Sticky Wicket" Chuffley are having a blast playing these tunes.
Kicking off this assault on the ears is "I Just Want To Drink At The Tote" (a song about a great little hotel in Melbourne's Collingwood) is a good, old fashioned party song. "Throbbing Eye" and "Why" keep the album moving along. These are drinking songs…pub songs…fuck Facebook songs. "Old Ship" and "Casual Sex" are more flat-out rock 'n' rollers - and they do rock, baby. LAMF!
LIsten up, revheads and rock dogs. The exclusive world debut of the video clip for Melbourne punks Grindhouse's latest song is upon us. "SLR 5000" is from Grindhouse's second album, "Crazy Pussy", which was recorded with Red Kross and Off! legend Steve McDonald at his Los Angeles studio, The Whiskey Kitchen.
If you can't work out the narrative, here's how Grindhouse describes their video: "In a high stakes, high octane duel to the finish line Two Fingers and Dick Rider battle it out for the title of the Grindhouse 1000. But who will win? Created by the legendary mind of Mike Foxall at Art Of The Fox, it's a drive back to a simpler, more dangerous time". Works for us.
"Crazy Pussy" is billed as "12 tracks of blazing idiocy". It's the second album for Grindhouse and it's being launched this Saturday at Melbourne's Cherry Bar from 2pm with an all-star line-up that includes Meatbeaters, Killerbirds, Kit Convict & The Terrible Two, Sheriff Don Fernando, Birdcage and My Left Boot.

You can grab a copy of "Crazy Pussy" on limited edition red vinyl or CD from Conquest Of Noise now. Go here for the red platter and herefor the shiny silver thing.