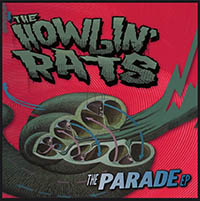 The Parade EP – Howlin' Rats (Hiss and Crackle Records)
Doing anything new with the blues is a tough task. Doing something interesting is another matter. Newcastle, Australia, guitar-harmonica-drums trio The Howlin' Rats, do just that on their debut five-song EP.
Opener "The Parade" is a harp-fuelled boogie stomp, an instrumental that serves to break the ice without busting any new ground. "MVII" is where things get interesting.
It's an arcane slow-boiler that's reminiscent of early '70s psych. Hobbit Harry'swinsome harp and a haunted vocal swim against waves of distorted slide guitar while drummer Tom Fairlie sits behind the beat and stirs the pot. It's six minutes of splendour. Grass is optional.