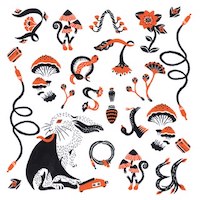 LØVE & EVØL - Boris (Third Man Records)
Invisible You - JP Shilo (Ghost Train Records)
Fortuna Horribilis - Vomit of the Universe (The Artist)
ANTI-RAMONES WARNING: NO BORIS SONG UNDER 3.5 MINUTES.
Grayson Haver Currin of Pitchfork comments on the latest alvum from Japan's venerable trio Boris:
"These seven anemic songs find Boris becoming something new yet again - self-satisfied."
Eric Carr, of the same magazine (ED: Isn't he in KISS?), commented retrospectively on Sonic Youth's LP "EVOL" in 2002:
"EVOL would mark the true departure point of Sonic Youth's musical evolution - in measured increments, Thurston Moore and Lee Ranaldo began to bring form to the formless, tune to the tuneless, and with the help of Steve Shelley's drums, they imposed melody and composition on their trademark dissonance. A breathtaking fusion of avant-garde noise (as far as Rock was concerned) and brilliant, propulsive rock... this is where the seeds of greatness were sown."
I think it's a fair bet that Boris are nodding at Sonic Youth's "EVOL" LP here; in 1992, on their first CD - a 60+minuter comprising only one song, "Absolutego" - they scribbled their influences - including Sonic Youth, a band whose first four records I bought and loved.