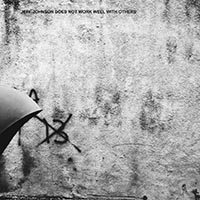 Jeff who? Ex-guitarist with Jason and The Scorchers - not the classical jazz guy from Orgegon and certainly not that twat Jack Johnson. This is a blistering four-song single, more abrasive than broken glass in your shaving cream and deliciously low fidelity. The songs, though…
Johnson recorded this with a bunch of players in Brazil with the bass player over-dubbing his parts for two songs from London. Swashbuckling Hobo (from Brisbane) put it out. If you appreciate blues-rock that sounds like it's been filtered through a gutter, this should live on your turntable.
Only "Call of Submission" sounds much like the output of his onetime band, with a subdued vocal and just a touch of Crazy Horse peeking through its dense wall of sound. "Believe In You" is a monstrous "Raw Power" outtake with acrid lyrics ("Hey girl, fuck with me/Your love is such liability") and a chord sequence that twists like "I'm Not Your Stepping Stone" in the grip of a muscle spasm. If the production wasn't so early Husker Du, this would be an enlightened radio hit.