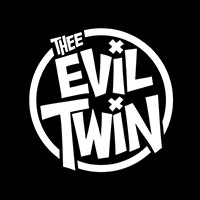 Old school punk from Sydney in the style of Johnny Dole & The Scabs. These guys are an evil trio, not a duo, but who cares about theirnumerically-challenged state-of-mind when the output is good?
The A side is about being a punk who's lost in the once seedy and now gentrified suburb of Pyrmont. The anger is real. Flip the platter and the Twins are expressing how much they want to "kick this city in the balls". Many share that sentiment and there's mor than a whiff of a singalong in this one.
It's all very basic in its production with a nice and meaty guitar sound. Thee Evil Twin aren't flashy and that's a good thing. This one's a limited run of 150 and likely will sell out - just like their other 45s. Go here for a copy.