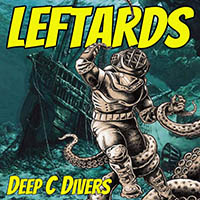 If you've spent any time in Wollongong, you'll know it as Sydney's less pretentious cousin. Much of the music from the onetime steelworks city is the same way. So here's cheers to The Leftards, your new favourite punk band.
As a bunch of older dudes from shop-soiled local bands like Bulldoze All Bowlos and The Dark Clouds,The Leftards have no compunction winding things back to the late '70s when everybody knew rap was crap and techno was a college where mechanics went to do a trade. This is the second Leftards seven-inch release and puts four inspired songs on a vinyl single.
Buzzy, fuzzy guitars, nagging and damaged vocals, yob humour and social commentary all sit side by side. The sound is a little shambolic - like a loose version of the Misfits - but nobody's shooting for AOR airplay.