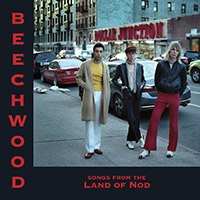 They don't have Real Rock and Roll bands in New York City any more, do they? Don't kid yourself, kid. They might be hard to find but they're still there, their beating hearts buried under 50 feet of radio-friendly dross and cultural fragmentation.
No, Virginia, there's no CBGBs. They made a shitty telemovie about it and moved the awning to an airport bar, somewhere. It was a shadow of what it was, even when I got there in the mid-'80s. There's no Max's, either. Times Square is more family friendly than a Disney dance party. Even The Continental is just a dive bar now, more famous for (literally) banning a figure of speech than the Joey Ramone parties it used to host in the '80s.
Gentrification has a lot of downsides and one is squeezing cultural outsiders to the extreme margins. Art mostly doesn't pay the rent, pegged or non existent. The NY rock "scene" is in Brooklyn these days, by all accounts. It has been for quite some time but it's mostly disposable pop. Thank fuck, then, for Beechwood.