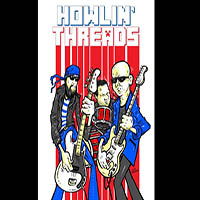 Howlin' Threads - Howlin' Threads (Meinshaft Records)
The ability of rock and roll bands to shed limbs that regenerate themselves is a thing of eternal wonder. From the The Undermines, out of Canberra - and many years prior, The Fools, from Newcastle - spring Howlin' Threads, a no-nonsense guitar band from the Wollongong and Canberra regions, packing a self-titled debut EP.
These "Howlin' Threads" are yet to play a show - they were supposed to debut in June in Wollongong before The 'Rona had other ideas - but clearly have their shit together in the studio. Their music ticks boxes familiar to any I-94 Bar patron. It's flashing back to high-energy Sydney, circa the late '80s with nods to all the usual suspects, but a notch above the imitators that abounded back then.