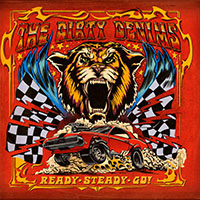 Ready Steady Go - The Dirty Denims (Ghost Highway Recordings)

Hello Barflies! Well folks, The Farmhouse windows have been getting a battering from some great fucking rock 'n' roll from The Netherlands. The Dirty Denims have released their third album (with a couple of EPs before that) and what a dead-set heavy hitter it is.
"Ready Steady Go" is, from the opening self titled track to the very last song, a killer. Miriam Sieben (vocals and piano), Jeroen Teunis (guitars), Suzanne Driessen (drums and sexiness) and Marc Eijkhout (bass) have definitely let all their influences come into the studio with them. Think early AC/DC meets The Runaways with a dash of Ramones and Nashville Pussy.