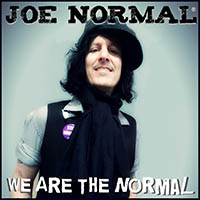 We Are The Normal – Joe Normal (New Jersey Phonograph)
This is a CD single. I think it's a little sad how the younger generation don't really keep hard copies of CDs or records on the shelf, anymore. They all prefer to store it in the cloud, or whatever, it's just virtualized and abstractly stored in their I-Gadgets. But older rock 'n' roll people like me, actually like the little gatefold sleeves with the lyrics and picture.
Joe Normal is my fave USA! USA! power pop contemporary - he writes emboldened singalong anthems for guttersnipes and barflies and aging dishwashers like you and me. He's got a kickass band and always delivers this beautiful pop 'n' roll that'll remind you of the freer, cooler, long gone glory days, before the oligarchy mass-hypnotized everyone you knew into eagerly signalling their obedience to the higher-ups, by abandoning their communal nature and critical thinking skills and viciously rat-racing for the most piles of stuff.