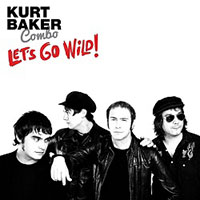 Two thoughts sprang to mind after one spin of "Let's Go Wild!" and both are for sharing: (1.) What a cracking album and; (2.) Let's all move to Spain.
American-born Kurt Baker has done just that, calling Madrid home for about a decade and fronting his own Kurt Baker Combo, based over on the other side of the country in Leon, Spain.
If the fact that "Let's Go Wild!" Is on the Wicked Cool label isn't a clue, the sticker on the cover with the ringing endorsement from Paul Collins should tell you that it's a winner in the power pop stakes. Baker has a great voice, his band powers and the songs are full of fuzzy hooks.