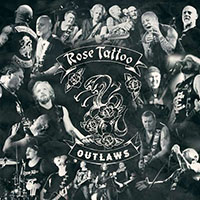 Outlaws - Rose Tattoo (Cleopatra Records/Punktured Media)
On which the current, immaculately qualified Tatts pay tribute to the heritage created by a late and much missed past line-up, with mixed results.
Dispassionately assessing a re-recording of Rose Tattoo's classic 1978 self-titled debut album is a tough assignment for any fan of the original work. It was a unique record.
A masterful blend of blues-boogie-rock with massive bottom-end swing. It was laced with punk's confrontational edge and delivered by true outsiders with a gang mentality - when both of those qualities were real and mattered.