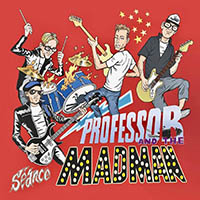 Seance - Professor and The Madman (Fullertone Records)
Old punks don't die. They just learn how to play their instruments and make concept albums. Stop right there. Don't run screaming from the room. Professor and The Madman's "Seance" is an album completely bereft of excess fat and self indulgence.
This trans-Atlantic band is American singer-guitarists Alfie Agnew (Adolescents, DI) and Sean Elliott (DI, Mind Over Four) joined by Brits Paul Gray (bass) and Rat Scabies, who respectively are current and former members of The Damned. While that's a punk pedigree worth bottline, "Seance" is one diverse pop trip.