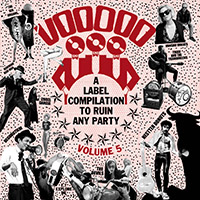 Volume 5: A Label Compilation to Ruin Any Party – Various Artists (Voodoo Rhythm)
A good judge once said that when Voodoo Rhythm releases are good, they're very good. If you're applying the label motto, "Music to ruin any party", this compilation borders on great. Mind you, you're also inviting the wrong kind of people to your knees-ups.
Voodoo Rhythmis resuming its compilation series after a long lay-off and there's no better place for the uninitiated to dive in.
Garage Rock is such an overused term. Voodoo Rhythm trade in it – and then some. If it's not too ableist, let's call their catalogue "Helen Keller Mistaking a Vegetable Slicer for a Braille Textbook" and be done with it. The aural output is typically raw, violent and bloody.