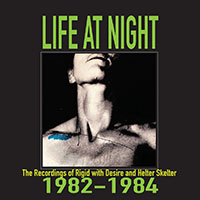 Life At Night 1982-1984 – Rigid With Desire/Helter Skelter (Method Records and Music)
For every band that made an impact on Sydney's fevered 1980's underground music scene, there are a thousand that left a fleeting impression.
Rigid With Desire was the next vehicle for Fast Cars singer-guitarist Di Levi after the first, mod-pop incarnation of that band dissolved. RWD melded ubiquitous (and very underlying) '60s melodies with a thick applique of fashionable post-punk, neo-Goth sounds. Their impression was more than fleeting and they made a mark on the then-serious Australian indepdent charts.
"Life At Night" compiles their five recordings, including the indie chart single "Nightlife", and two by Helter Skelter, their re-jigged, latter-day line-up.