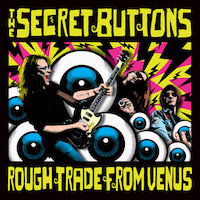 Rough Trade From Venus - The Secret Buttons (self released)
Their third release, on which the West Australian trio unleashes six songs of dirt-encrusted sonic goodness, each delivered with the subtly of a MyGov website crash.
Remember that lame concoction of a "band" called Wolfmother? Cooked up to ride the global wave of so-called New Rock in the early 2000's, they were as dangerous as eating a soufflé in the shower. They gave trios a bad name. No wonder they were originally named While Feather. The Secret Buttons are nothing like them.