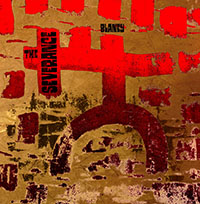 Louder than War gives this album from Ed Blaney, the onetime latter-day member of The Fall, a rating of nine-out-of-ten, but sod that, it's a seven bottler out of five if I ever heard one.
Sass, bounce, beat, humour (of the kind that warms those mysterious cockles on a winter's night), well-crafted songs somewhere between pop, rock and wiggle yer butt, all the while dragging your sorry ageing carcass onto the dancefloor. Except for a couple of quiet ones, but you'll be listening hard to those. Sucked in? Deep inside!
Right, let me get my breath back. You don't hear much of the kind of pop made in "the '60s" anymore, do you? Well, alright, it's not the '60s anymore, that's one reason. And another is... the music industry lost its innocence long, long ago, but found it again in the '60s, or appeared to.