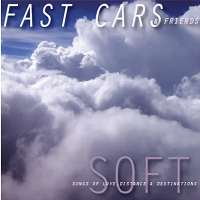 In case you haven't noticed, trans-global duo Fast Cars kissed their mod past goodbye a long time ago. moving into dreamy shoegaze and pop-psych. On their second full-length album, "Soft – Songs of Love. Distance & Destinations", the core of Di Levi and Fabian Byrne has staked its claim on folk-pop.
"Soft" leads with the A and B side of the seven-inch single that preceded it. "Real Love?" and the slightly acerbic "Stainless" grow with each listen, reverberating with echoes of Britpop and the faintest strains of the Church. It's Di Levi's elegant vocal that's the distinctive take-out here and that rings true for all 13 songs.
Expect no in-your-face rockers on "Soft". Fast Cars are aided and abetted by an array of guests in Australia and the UK and there's some quality playing. Melody lines and musical textures abound. On this one, Fast Cars seek to beguile rather than badger.