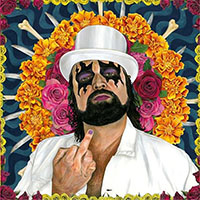 Most people outside of his native Norway would think it's been a long time between drinks (or other substances) for Hank von Hell, The Artist Formerly Known as Hank von Helvete of death-punters Turbonegro.
Lifestyle issues twice rendered him an ex-member of his old band and he finally pulled the pin on them in 2010. A second spell in rehab (via a conversion to Scientology) put him back on his feet. Since then, he's been a radio host, starred in a film, written an autobiography, appeared as a judge on Norwegian Idol, married a model and fatheried a daughter. All of which proves that fact is stranger than fiction when you consider Hank kick-started his career singing about having an erection..
Hank had a number-one hit in Norway as a solo artist in 2009 and fronted the post-Turbonegro supergroup Doctor Midnight and the Mercy Cult for a time. He's now back on the boards in his own right with the release of "Egomania", a record that might be a concept album themed loosely on the pitfalls of performing.