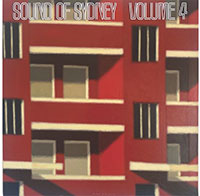 Sound of Sydney Volume 4 - Various Artists (Method Records and Music)
What is "the sound of Sydney"? It's a rhetorical question, if not an outright non sequitur.
If you asked 20 different people, you'd get as many different answers. Someone young might say it's Triple J - which would be laughable but it's, you know, it is somebody's reality. You can fight media fragmentation but it's like yelling at a cloud. Boomer.
"Sound of Sydney" was a series of compilation albums- appearing in 1983, '84 and '86 - and the work of Method Records' Fabian Byrne, of mod-pop band Fast Cars. They were fine records - and very diverse and that in itself was reflective of what was going on in the underground.