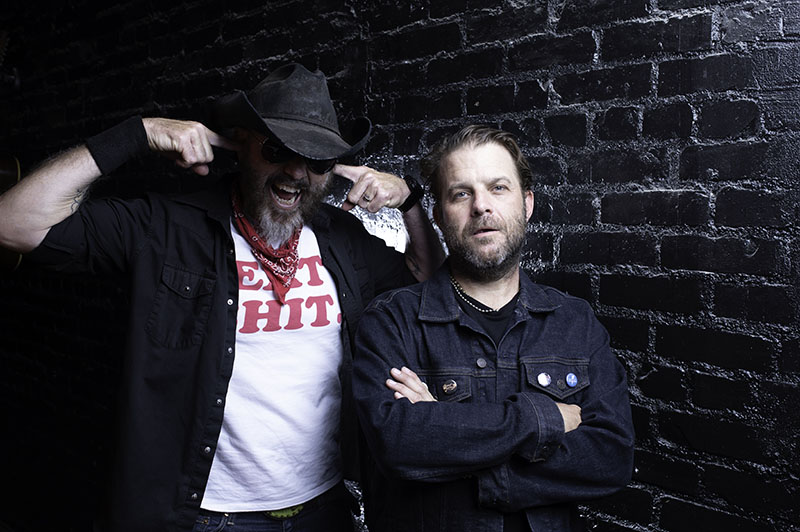 Eddie Spaghetti (left) of The Supersuckers thinks it's all a bit loud but Frank Meyer begs to differ. Ed Culver photo.
Los Angeles musician, author and filmmaker Frank Meyer is a surprisingly talented singer songwriter and a highly skilled, captivating raconteur. He seems like a genuinely all around good guy, so I'm a little embarrassed I did not get that hip to his extensive discography much sooner.
I first became aware of both Frank Meyer and fellow feature article subject John 5 way back in the hazy distant past-maybe like, 23 years ago, in the pages of a glossy punk 'n' roll bible, "Pop Smear", with both my boyhood idols, Evil Knievel and David Lee Roth on the cover. I was workin' at a news stand in the Midwest where long lines of unhappy barflies flooded in front of my cash register all day, incessantly wanting to buy the scratch off lotto tickets. "I'll take ten Lucky Pots Of Gold and five Leprechaun's Rainbows".
Frank seemed to have won the rock 'n' roll lotto when he got to hang out with John 5 and David Lee Roth, live, and in-person, on multiple occasions, and then, went on to write books and form his own bands that criss-crossed the country. He was playing bills with all the other bands I liked at the time and releasing a long and prolific stream of records I never really heard.