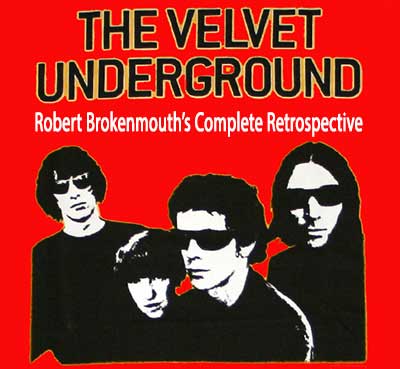 Been thinking about death a lot lately. And, imminence.
Lou Reed's death, Bowie's, Cohen's … they didn't affect me a whole lot. I was more upset when Alan Vega went, but also, Victoria Wood and Benny Hill - somehow I just figured they'd go on forever, like Cab Calloway or Ken Dodd. What these folk left behind, though…
Probably the reason Lou Reed was always reluctant to acknowledge the Velvets in his later, hugely successful careers (despite playing their songs), was that for all his success, he could not - not ever - have produced anything like the Velvets on his own; and that to some extent that reduced his creative validity, that he'd created something far more lasting and significant with other people, than anything he'd ever created with his own outfits.
Paul McCartney is said to have been obsessed with his past with The Beatles, and went out of his way to make more money than the Beatles did…
I don't know how he does his accounting, but chunks of money do not, not now nor never, equate to cultural and social impact and influence. We still hear echoes of The Beatles today. And the Velvets, in everything from soap commercials to supermarket music.